Family office
Each and every family office is unique. Just like you are
Family office is a comprehensive and integrated set of services dedicated to manage and administer the overall wealth of a family and ensure the sustainability of the welfare across multiple generations. Or put it in a simple way: it is an organization that assumes the day-to-day administration and management of a family's affairs. It is a team of professionals in different fields working together to satisfy all family wealth related needs. Once you've seen one family office, you've seen ONE family office. Each family office might perform different services for the family or families it serves depending on the specific needs of the families.
Family office provides a diverse range of services: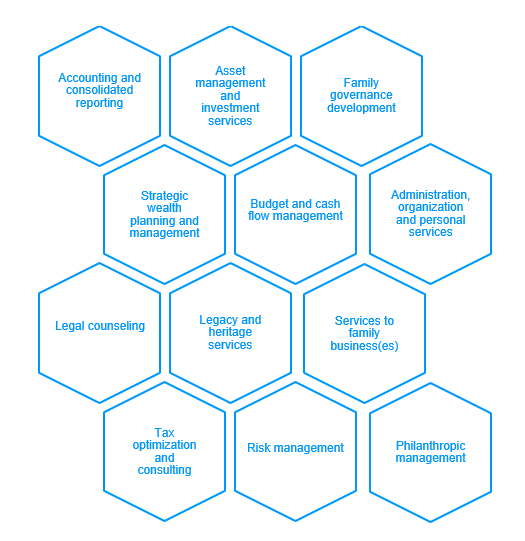 ...and offers undoubted value-added:
> Comprehensive package of services allow to see on the "big picture" while centralization of services provides efficiency and accountability;
> As a separate entity, family office is independent, unbiased, doesn't sell, thus allow to implement long term goals, set guidelines for the future, ensure continuity;
> As a separate entity, family office helps implant family's values for the next generations;
> Family office is the first and the only contact for any asset and wealth management, administration, philanthropic advisory;
> Family members free up from administrative burden and daily errands thus they can focus on other activities and enjoying the quality of life.
Get in touch to learn more about our family office services.